About Us
Troop 650 was founded in 1970 and we are proud to be celebrating our 50th year of continuous service to the boys of our community. Chartered by the Kiwanis Club of La Palma, we enjoy the distinction of being the only Boy Scout troop in La Palma. The small community of La Palma has been very supportive of our troop, and each year we proudly carry the American and California flags as we lead the annual La Palma Days Parade.
Although we all follow the national program, each Boy Scout troop is unique, and families are encouraged to visit several troops to find the right "fit." Here is a brief overview of Troop 650's attributes:
Membership
We are a mid-sized troop with an enrollment of approximately 40 boys, ranging in age from 11 to 17 years old. The boys plan and run the meetings, and the older boys teach the younger boys. Trained adult leaders are on hand to advise the senior boys and step in only as necessary.
We are proud to have received Gold status in the Boy Scouts Journey to Excellence program.
We are especially proud of our cultural diversity. Our troop welcomes families of any race, religion, or national origin.
Most of our boys perform well academically and are active in a variety of activities outside of Scouting, such as sports teams, music, theater, church programs, school clubs, and service organizations.
New boys are welcome at any age and at any time during the year.
Philosophies
Advancement is never forced, but it is actively encouraged and supported. Advancement and merit badge activities are built into our program.
We have a strong tradition of Eagle Scouts within the troop and encourage even the youngest boys to aspire to this honor. Although we are aware that attaining Eagle can be a plus on college admission forms and job applications, we try to emphasize the many other positive aspects to becoming an Eagle.
Adult involvement is the key to a good troop, and we have a solid infrastructure thanks to active parents and other adults. Mothers and fathers are all welcome to become involved in whatever way works best for them, though the involvement of some type is expected from every family. This may involve working with the boys as an Assistant Scoutmaster or Merit Badge counselor, helping with fundraisers or refreshments, coordinating once-a-year activities like Scout-o-Rama or La Palma Days, or working behind the scenes to track advancement, collect money, make camping reservations, handle troop tee shirts, maintain equipment, etc. And the adults often have as much fun as the boys do!
Parents are welcome to accompany the troop on campouts, even if they are not uniformed leaders, but are asked not to interfere with the boys' cooking or other program activities.
Boys and adults are expected to adopt and live by the Scout Oath and the Scout Law.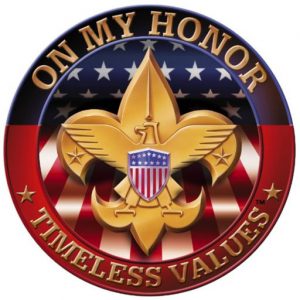 Our troop meets on Wednesday evenings (7:00pm – 8:30pm) from September through early June. Weekly meetings are suspended during the summer, though summer camp and other special activities and programs are scheduled. This is necessary because we meet in a public school, but we also find this summer break serves to give Scouts and families a needed rest, allowing them to begin again in September with renewed energy and enthusiasm.
We generally go "car camping", where we drive to our ultimate location, though hikes and overnight backpacking trips are occasionally organized as well.
Although there are a few favorite locations we tend to visit most every year, we generally try to vary the program from year to year, camping at different locations, going to different summer camps, or organizing new activities during outings.
High adventure opportunities are popular among the boys, so we try to make a number of options available during the year. Whitewater rafting, snowboarding, and rock climbing are special favorites, but we have also organized campouts that focus on cycling, shooting sports, or hiking.
All the boys are expected to learn to cook. Patrols plan their own menus and cook their own meals, though "jamboree style" cooking is occasionally organized to expose the boys to new recipes.